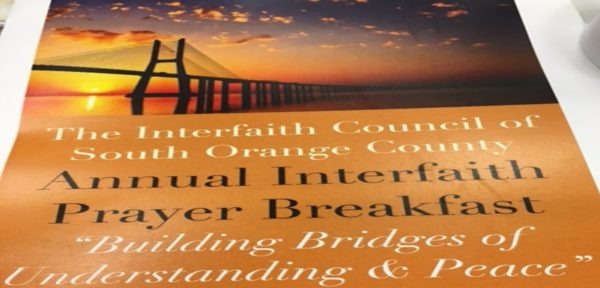 On May 6, 2016 Michael Josephson addressed about 250 religious and civic leaders in South Orange County, CA. The powerful and provocative presentation received a standing ovation.
It began with this invocation:
"Let us hear and heed the better angels of our nature, the angels 22 that call us to think and act beyond ourselves; to respect and care about the well-being of others in our human family; and to accept our moral duty to improve ourselves and the world."
– Michael Josephson
To see a summary of the presentation and view / download the slides please go to WhatWillMatter.com/InterfaithMovement.
Let us hear and heed the better angels of our nature, the angels that call us to think and act beyond ourselves; to respect and care about the well-being of others in our human family; and to accept our moral duty to improve ourselves and the world. – Michael Josephson
QUOTATIONS:
To see the other side, to defend another people, not despite your tradition but because of it, is the heart of pluralism. — Eboo Patel
All RELIGIONS, all this singing is one song. The differences are just illusion and vanity. The sun's light looks a little different on this wall than it does on that wall and a lot different on this other one, BUT IT'S STILL ONE LIGHT. — Rumi
Do not be daunted by the enormity of the world's grief. Do justly, now. Walk humbly, now. You are not obligated to complete the work, but neither are you free to abandon it. — The Talmud
Religion is a candle inside a multicolored lantern. Everyone looks through a particular color, but the candle is always there. – Mohammed Nequib
Like the bee gathering honey from different flowers, the wise person accepts the essence of the different scriptures and sees only the good in all religions. – Gandhi
Our ultimate duty to God is to live up to the best that is in us. – derived from Mordecai Kaplan
You can't force anyone to love you but you can refuse to allow them to make you stop loving them.
All that is necessary for the triumph of evil is that good men do nothing. – Edmund Burke
First they came for the Socialists, and I did not speak out because I was not a Socialist. Then they came for the Trade Unionists, and I did not speak out because I was not a Trade Unionist. Then they came for the Jews, and I did not speak out because I was not a Jew. THEN THEY CAME FOR ME —AND THERE WAS NO ONE LEFT TO SPEAK FOR ME. – Martin Niemöller , Protestant pastor
__
TODAY I want to speak beyond platitudes. I want to do more than make you think more deeply about your opportunities and obligations to employ your faith to improve the world. I want to inspire you to act, to do more, no matter how much you are now doing.
I want to speak to your heart and encourage you to follow its guidance knowing that compassion becomes powerful through action.
As I do so I want to remind you of two important convictions I've developed over the years:
You don't have to be sick to get better
It's easier to make a good person better than a bad person good
As we examine whether religion is the problem or solution we must recognize two conflicting human tendencies:
INDIVIDUALISM – an instinct for survival, comfort, prestige and achievement leading to the pursuit of self-interest, and attraction to tribal social structures characterized by exclusionary commitment to core truths resulting in isolation and competition.
COMMUNALISM – an altruistic instinct to care about the well-being of others driven by empathy and compassion and an inherent desire for social justice.
Two Aspects of religion
Devotion to God/authority of Scripture- devoutness is demonstrated by piety, prayer and ritual.
Devotion to humankind and personal perfection demonstrated by adoption of behavioral moral principles promulgated by the religion.
IS RELIGION THE PROBLEM OR THE SOLUTION?
When is religion a divisive force?

Extreme orthodoxy demanding absolute compliance of members by punishing or excluding those who do not adopt the dogma or adhere to the customs and traditions.
Violent efforts to convert or annihilate heretics and nonbelievers
__
The Interfaith Movement
To uncompromising orthodox religionists who insist that their moral "truths" are absolute and indisputable making alternative views wrong and, possibly, sacrilegious, the interfaith movement can be viewed as heretical.
The interfaith movement builds entirely on moral connecting threads of love, compassion, respect, peace and harmony
The goal of building bridges of understanding is not just about the way people think but about the way they act, about the way they treat others.
Two Aspects of Bridging Social Chasms Caused by Religious Differences
Inter denominational – acceptance and tolerance of dogmatic and cultural differences within the major religious denominations (e.g., Christianity – Catholic/ Protestant; Muslim – Shiite/Sunni; Judaism –  Orthodox/Conservative/Reformed/Reconstructionist)
Interfaith — people of faith adopt the concept of pluralism and build on religious/moral principles of love, acceptance and social responsibility to mend the world.
The Critical Concept of Pluralism
Pluralism is a political philosophy that recognizes and affirms ethnic, religious and ideological diversity within a political body and promotes the peaceful coexistence of persons irrespective of their differences.
American democracy is premised on the concept of pluralism.
 THE INTERFAITH MOVEMENT IS ROOTED IN RELIGIOUS PRECEPTS AND IN PRINCIPLES INTRINSIC TO AMERICAN POLITICAL IDEOLOGY
The cultural and ethnic diversity of America is rooted in the historical fact that a primary motivation for many who left their homelands to come to an unsettled territory was to form colonies where they could freely practice their religions.
Religious pluralism is a cornerstone of our political identity as America was a refuge from religious persecution, oppression and harassment, a place where people could practice their religion in harmony with others.
The free exercise of religion is embedded in the Bill of Rights as one of the most fundamental features of American democracy which not only allows but respects alternative theistic and atheistic perspectives
RELIGIOUS FREEDOM IN AMERICA
Religious freedom is guaranteed by Constitutional provisions that forbid the government from making any laws or taking any actions that establish or favor any particular religion over another, or even religion over other spiritual perspectives, including atheism.
The moral and political underpinnings of this unique and fundamental principle not only prevents government interference with the free practice of religious beliefs, they also condemn as un-American efforts by particular religious groups or individuals to prevent, demean, or ridicule the religious practices of others or to discriminate against any person because of their religious beliefs or practices.
PURPOSE OF THE INTERFAITH MOVEMENT Organizations and individuals active in the interfaith movement seek to:
Assure their own freedom to practice their religious traditions by promoting and protecting religious pluralism.
Promote social harmony for the common good.
Promote personal growth and wisdom through understanding and to correct inaccurate beliefs of the principles and practices of other religions.
ADVANCE THE SHARED MORAL MANDATES OF LOVE, CHARITY, COMPASSION, MERCY, JUSTICE AND SERVICE EMBEDDED IN THEIR OWN RELIGIOUS TRADITIONS
The challenges to religious pluralism often reflect particular political and social trends – most religions have been the subject of persecution or derision at one time or another.
As the result of and reaction to extremely violent and highly visible acts of persecution and terror by a narrow segment of Muslims (e.g., those associated with groups like ISIS and Alcalde), Muslims who neither adhere to nor condone these actions are being subjected to discrimination, hostility and violence.
OUR OWN RELIGIOUS PRINCIPLES AND OUR PATRIOTIC DUTY AS AMERICANS REQUIRE US TO DEMONSTRATE OUR FAITH AND OUR COMMITMENT TO PLURALISM BY PROTECTING OUR MUSLIM BROTHERS AND SISTERS WITH OUR VOICES AND ACTIONS.
DECLARATION OF MUSLIM REFORM MOVEMENT- Preamble:
We are Muslims who stand for a respectful, merciful and inclusive interpretation of Islam.

We are in a battle for the soul of Islam, and an Islamic renewal must defeat the ideology of Islamism, or politicized Islam, which seeks to create Islamic states, as well as an Islamic caliphate.
We seek to reclaim the progressive spirit with which Islam was born in the 7th century. We support the Universal Declaration of Human Rights, which was adopted by United Nations member states in 1948.

We reject interpretations of Islam that call for any violence, social injustice and politicized Islam.
We stand for:
Peace:  We reject interpretations of Islam that call for any violence, social injustice and politicized Islam. We invite our fellow Muslims and neighbors to join us.
Human Rights: We reject bigotry, oppression and violence against all people based on any prejudice, including ethnicity, gender, language, belief, religion, sexual orientation and gender expression.
Secular Governance: We are for secular governance, democracy and liberty. Every individual has the right to publicly express criticism of Islam. Ideas do not have rights. Human beings have rights.
What can you do?
Promote within your organization systematic ways of getting to know people from differing religious traditions and the principles and practices of those religions (e.g., guest speakers; visits to mosks, temples and churches; potluck meals; joint projects and holiday celebrations.)
Personally commit to enlarge your personal contacts and of young people you influence and increase your knowledge of other religions, and more proactively promote shared values underlying religious pluralism and the interfaith movement.
Assure that your religious organization speaks often and loudly about the importance of religious pluralism, the perniciousness of religious prejudice and the danger of ignorance and irrational fear of Muslims and the Islamic religion.
Support and encourage efforts of the Muslim community to understand and appreciate the true principles of Islam and their condemnation of the rhetoric and violence of fringe Muslim organizations.